Shopping Cart
Your Cart is Empty
There was an error with PayPal
Click here to try again
Thank you for your business!
You should be receiving an order confirmation from Paypal shortly.
Exit Shopping Cart
Diamond Confetti For Centerpieces or Vase Filler
Diamond confetti as a vase filler looks stunning on your wedding tables but can be a stun to your budget if you need several cups for each centerpiece.  We've often told customers you can get the same elegant look for 1/2 the cost if you "dummy" up the middle of each vase with something much less expensive or better yet, free.  Why not wrap foil around rocks or floral foam if you are using flowers with stems. Simply put your "dummy" in the vase first and then pour the diamond confetti around the dummy.  No one will ever know and you might just save yourself a bundle!

As a wedding décor planner, I used to worry about every little detail of decorating for wedding receptions.  I bought several colors of quality table cloths and would try to match the bride's colors perfectly.  Then one day I realized that what I really needed were just two colors of tablecloths-white and cream.  The color could be added by using an overlay or a runner. This not only cut down on the money I was spending on cloths but also on the storage space I needed.  The rule that usually worked was if the bride wore a white dress we used white tablecloths and if she wore a cream colored dress, most of the time her color scheme worked best with our cream colored cloths.
If you want to know what size of cloths to buy, remember this rule.  Most tables you will find will have a 30 inch drop to the floor.  Therefore, if you wanted a to cover a 60-inch round table and you wanted your cloths to touch the floor you would need to buy a 120" round table cloth. If you want the tablecloths to be 10 inches from the ground you would subtract 20".  If you wanted to cover an 8 foot long serving table to the floor you would need a rectangular cloth that measured 90" by 156"-assuming the table is 30 inches wide.  Most long tables are 30 inches wide but if in doubt, always measure.  Happy decorating!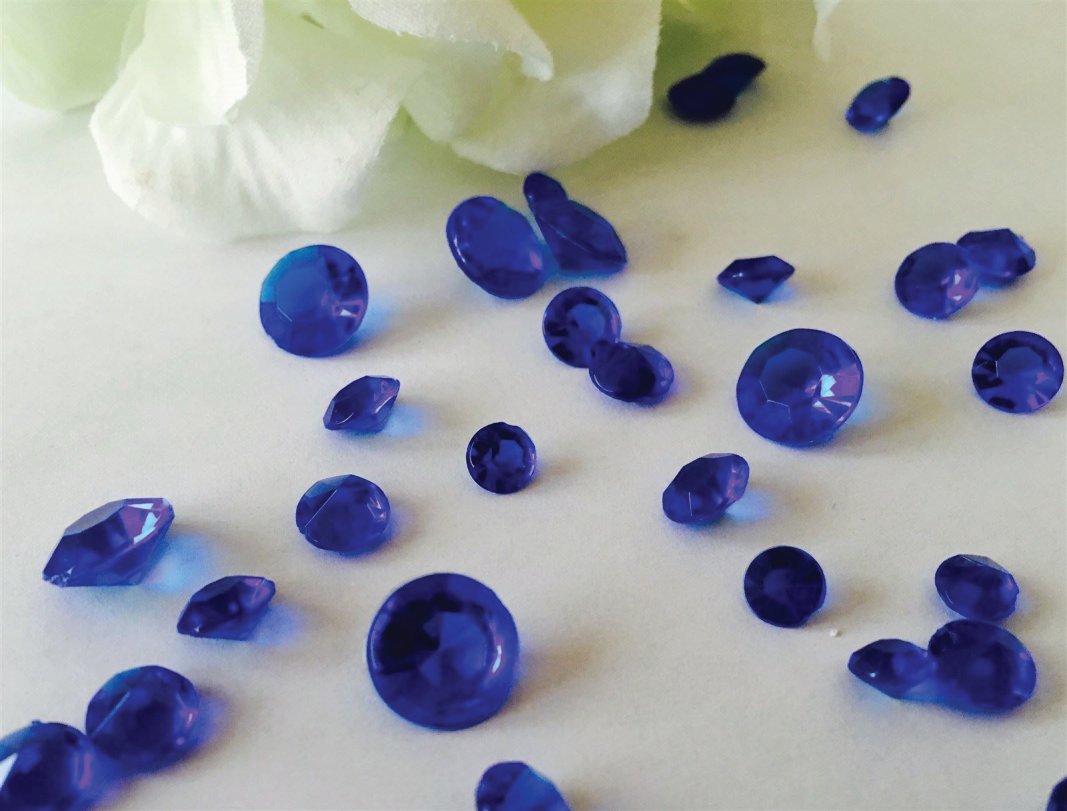 I want to let brides and event planners in on a little secret. You can take awesome pictures with a phone!  I recently bought an i-phone 6s specifically because I heard the camera was amazing.  I am finding that taking pictures with my phone turn out better than with my expensive Canon. I've never been that great at running the Canon but I believe the the picture-taking process on the i-phone has been "dumbed down" for users like me.  Check out this recent picture of sapphire blue diamond confetti and I think you will agree it's a great picture.  So dig out your phones and start shooting your friend's wedding and you might just be able frame a nice little present for the bride and groom. 

Party Planners listen up!  October is a big month for weddings and if you want to be the party planner that gets rave reviews, you have to make your event stand out.  Of course, we all know that a beautiful venue is just the beginning.  You need nice chairs, a focal point like a backdrop and most of all beautiful tables and centerpieces. Fresh flowers never go out of style and a light sprinkling of diamond confetti is the final touch that will make your guests say "Wow". Try it and see what I mean.


When ordering diamond confetti, please take a minute to pull out your ruler and see how big the gems actually are. We don't want anyone disappointed with the size of the diamonds and even though 4 carats (or 10mm) might look mighty fine on your finger, the diamond actually looks smaller when it is not in a setting. We also list a pretty good description under "SIZE INFORMATION" where we compare the different sizes to a familiar item. Diamond confetti by nature is small with some of the largest pieces being just about the size of a dime. After that, you really should be calling it "large diamonds". So save yourself money, time and disappointment by either ordering a sample of the diamond confetti or dare, I say,  checking it out in a hobby store so you know what you are buying. Happy decorating!

With regard to how much diamond confetti you might want to put on each wedding reception table, we tell our customers that 1/4 to 1/3 of a cup is about the right amount-BUT it depends on how big your tables are.  If you are using bistro tables and just want a little bling around your small centerpiece, maybe a couple of teaspoons is enough.  If you have bigger centerpieces on bigger tables-say 60" rounds, then you would want about 1/3 of a cup of diamond confetti.  You could play with some unpopped popcorn or dried beans and see what you think prior to buying the diamond confetti. Sprinkle the beans around your centerpiece and see if it is too much or too little. And don't forget we have small

sample packs

so you can make sure the color is just right.  Happy planning!

Diamond Confetti makes a great vase filler.  It makes for a beautiful base to your centerpieces.  However, it can be a bit expensive if you want to fill 25 vases or even 10 vases for that matter.  So how do you achieve the look without breaking the bank?  We've long been suggesting to our customers that they "dummy" up the middle of their vases with such things as rocks wrapped in foil, floral foam wrapped in foil or if the vase has a really big base you could even use cans of beans or whatever, with the labels removed. You might even have some better ideas as to what the "dummy" could be (and we would love to hear from you).  Once your dummy is in place in the center of your vase, you just put the diamond confetti around it and no one knows the difference-except your pocket book! Call us if you have any questions. We are here 10-7 EST Monday-Saturday.


If you are looking to buy diamond confetti from someone in the United States, you've come to the right place.  Our business  model is to have a LARGE inventory of diamond confetti so we can send you your order super fast.  No waiting for a month to get your diamond confetti from overseas. We have it right here in Idaho. Funny thing though, Idaho hasn't caught on to the bling trend.  Maybe someday.  We sell most of our product to people looking for diamond confetti in Miami, Dallas, Houston, Atlanta, Los Angeles, and New York. We hope our diamond confetti adds to your wonderful event, whether it be a wedding reception or a corporate event.  Thank you so much for your business!


Planning a celebration, party, wedding, or other large event can be a very fun experience. But with all the details involved, it is easy to see why so many people become overwhelmed during the process. Fortunately, the decorating process does not have to be a challenge. There are many unique elements which can be used to add glitz, glitter, and glam to any type of event and diamond confetti or 

gem confetti

 is being used more and more.




Many people are choosing diamond confetti for the wedding reception party. Diamond confetti can be used a variety of ways. However, a simple placement of this decorative accent on tables, in vases, and in floral arrangements can make a massive statement to your centerpieces.  While guests do focus on the bride and groom during a wedding reception, adding a bit of sparkle to various areas can showcase the couple's love for one another.  Take a minute to look at our many colors of diamond confetti and think of the possibilities. Your centerpieces will truly stand out and your guests will be very impressed!







 Wedding planners, event planners, and brides we are here to help you make the most of your occasion.  Diamond Confetti has lots of uses, but turning a regular centerpieces into an elegant centerpiece is it's main use. Order a sample today and see what we mean. Your tables will look amazing with just a couple of tablespoons sprinkled around the bottom of the centerpiece. Happy event planning everyone!

0

/