Shopping Cart
Your Cart is Empty
There was an error with PayPal
Click here to try again
Thank you for your business!
You should be receiving an order confirmation from Paypal shortly.
Exit Shopping Cart
We Ship from the USA daily
Contact us at: [email protected]
FREE SHIPPING ON ALL ORDERS WITHIN THE USA
Diamond Confetti For Centerpieces or Vase Filler
Party planners get ready!  You are about to enter the busiest time of the year. Valentine's day is just around the corner and people will be getting engaged by the thousands.  Brides and grooms are going to be calling you to help plan their wedding any day now.  If you are looking for some new ideas on how to decorate the wedding tables, you've come to the right place. You'll want to scroll through our many pictures of centerpieces to see what brides and grooms have done with diamond confetti to make their wedding tables stand out.  Table scatter is the latest and trendiest fad to "bling" up their centerpieces. We have lots of inventory and are ready to help you figure out how much diamond confetti you will need. Whether it be for a wedding, a corporate event or a baby shower-we can help. Love is in the air!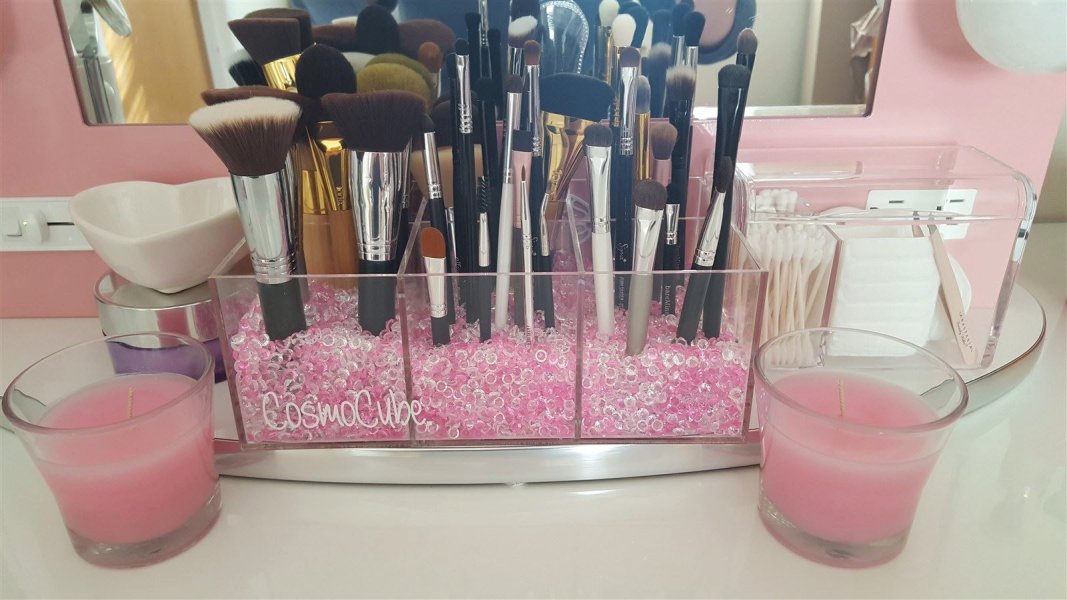 I love when customers send me pictures of their beautiful creations.  Jessica used the 2/3 carat pink and clear diamond confetti to fill her make-up brush holder and WOW! look how feminine and neat and classy it looks.  I just have to say-I am SO jealous of your brush collection!  I think this just looks so nice and neat and fun-not to mention organized.  So see, use your imagination and diamond confetti can make your world a better place too!  Thank you Jessica~
The autumns in Idaho are beautiful and this past weekend we had the pleasure of helping a friend decorate for her daughter's wedding. I want to share with you some of the pictures.  The brides colors were peach and cranberry and so she used cranberries in her vases with beautiful peach and white roses as centerpieces-and of course a light sprinkling of diamond confetti. We also used the 3/4 inch diamond garland between her stanchions and then used the diamond wrap (held together with uglue) to spruce up her chair bows.  It was  a lovely setting and I wanted to share the pictures with you.
Enjoy!
Diamond Confetti can be used for several things besides being an elegant addition to centerpieces. After you are done using it as table décor you might consider some other uses such as wedding cake décor (it would have to be on a fake cake that won't be eaten of course), or as an additional to a piñata when it is full of surprises that don't include candy at a Quinceañera. You can also fill a Ball quart or pint jar to hold makeup brushes, pens (it would look really cool at a jewelry store), or in a vase full of flowers on your dining room table. One of our customers imbedded the diamonds into acrylic and made a really cool floor for the bottom of a champagne glass-shaped hot tub at a themed hotel. Another customer used diamond confetti to put in a tray that held seating assignments for the guests. Another customer put our small 4.5mm diamonds in with her wedding invitations. Diamond Confetti is heavy enough that you could fill a nice jar and use it as a paperweight.  It would also work great in homemade maracas or bean bags!  Think outside the box for what you might be able to do with diamond confetti.  We would love to see and hear about your ideas!
Diamond Confetti makes a great vase filler.  It makes for a beautiful base to your centerpieces.  However, it can be a bit expensive if you want to fill 25 vases or even 10 vases for that matter.  So how do you achieve the look without breaking the bank?  We've long been suggesting to our customers that they "dummy" up the middle of their vases with such things as rocks wrapped in foil, floral foam wrapped in foil or if the vase has a really big base you could even use cans of beans or whatever, with the labels removed. You might even have some better ideas as to what the "dummy" could be (and we would love to hear from you).  Once your dummy is in place in the center of your vase, you just put the diamond confetti around it and no one knows the difference-except your pocket book! Call us if you have any questions. We are here 10-7 EST Monday-Saturday.

When you are planning your wedding and reception, you want it to be memorable. It's the day that every bride gets to be a princess and every groom a charming prince. You want for everything to be perfect, including the ways that the tables look at your reception. One thing you can use on your tables to give them the look that you want is 
diamond confetti
.
Diamonds can be very symbolic for several occasions. One has been with weddings. They have traditionally been used as engagement rings. Diamonds have also been thought to represent purity and loyalty, things that fit very well with weddings. Diamonds are also seen as the ultimate in precious gems. They are very expensive, so they are seen as the height of luxury.
All these things combine to make 
diamond confetti
 the perfect bling to put on your table at your wedding reception. With the right lighting, you will have sparkling, shiny acrylic gems on your table. You can either have them scattered around the centerpieces or use them in the centerpieces. For example, you might put them in a vase with a lit candle. The light would shine through the confetti to really sparkle and look stunning.  Your guests will be amazed at the beautiful ambience! Check out our 12,000 ct.
Spring Special
for 6 cups of high quality diamond confetti. We would love to hear your ideas or better yet see how you have used diamond confetti.  Send us a picture and we might just use it on our website!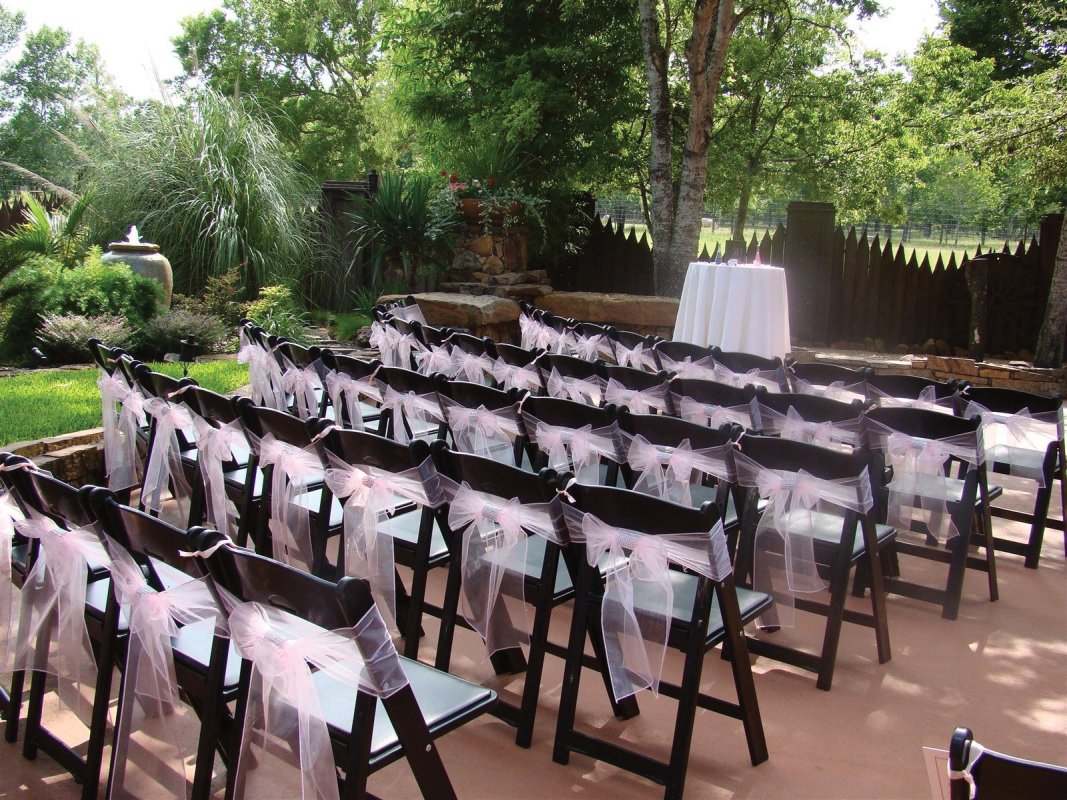 Diamond wrap
, also called rhinestone wrap has lots of uses. We know of many but I was thrilled when one of our customers, JoAnn, responded to our picture request showing us how she used diamond wrap.  As you can see in this lovely photograph JoAnn sent, she used diamond wrap to bling up the chairs of a beautiful outdoor wedding in Texas.  The diamond wrap has 24 rows and is about 4.25 inches wide.  JoAnn cut the diamond wrap in half so she only used 12 rows per chair and then cut about a  5 inch length and glued it into a tube and pulled tulle through it.  We think it is gorgeous and for $24.95 you could make approximately 144 "tubes" from a 10 yard roll.  Thank you JoAnn!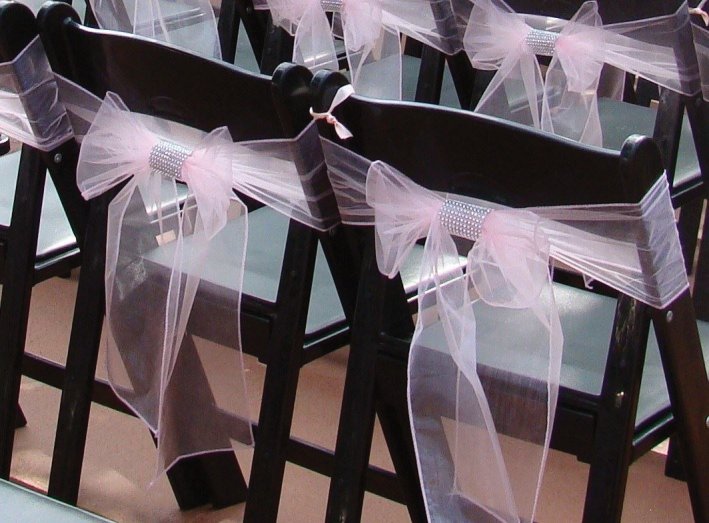 Our customers are always looking for centerpiece ideas and ways to incorporate diamond confetti into their bridal décor.  If you OWN a picture that you would be willing to share with us wherein you used diamond confetti in your wedding decorations, we would love to put it in our website.  You could inspire someone else with your ideas.  And here's an incentive-if we use your picture on our website, we will send you your choice of a $10 gift card to Subway or Starbucks! We will need you to sign a release and have you state that you own the picture so we are not violating copyright rules.  Diamond confetti has so many uses-let us see what you did.  Next week we will share our customer's ideas on how they used diamond confetti with their centerpieces.  Thanks!

If you are looking to jazz up your centerpieces, look no more.  Diamond confetti will do the trick.  It only takes a few tablespoons to add the final touch to your beautiful creation. 
Order a sample
today to "play" with and see what we mean.
 Check out what Debbie did with the aqua blue diamond confetti...you gotta love the napkin. Happy planning!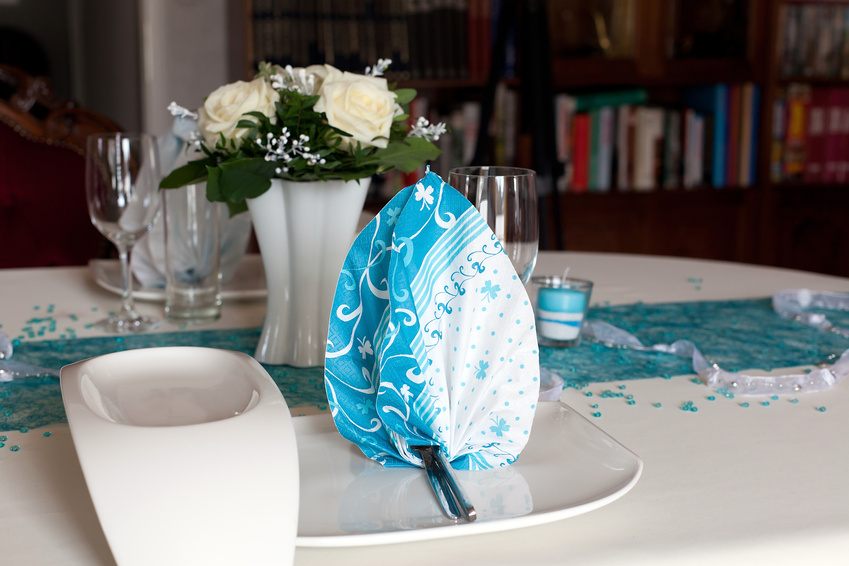 /